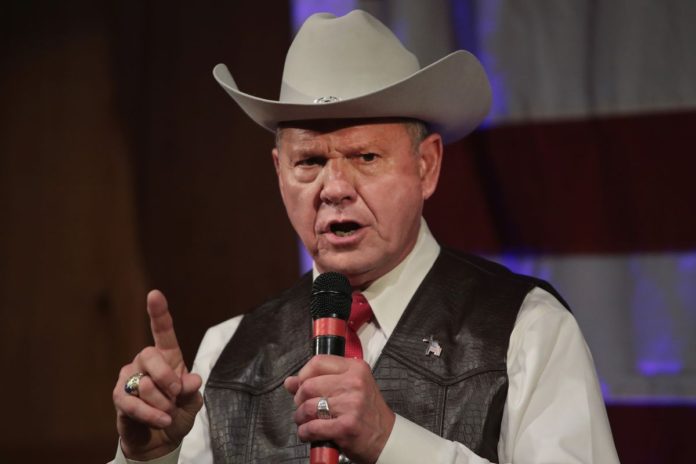 Roy Moore is a man who's willing to put his money where his mouth is.
Judge Moore risked his professional future to make a stand for faith and defend traditional marriage. And in return, he's been mocked and persecuted.
Now, he's running for Senate in Alabama and facing a bitter test.
Help CAAP continue to stand up for our Christian rights with a donation today!
Somehow, Judge Moore is being treated as the "outsider" in the race. (They even call him that: "the political outsider.") That's because of his opponent, Luther Strange, has the support of the Republican establishment.
Meanwhile, Moore, who has never wavered in his support of Christian values – and who has pledged to defend life, family, and justice – is fighting to get elected without the help of establishment insiders.
He does, however, have the full backing of people who are eager to see a man with so much integrity elected to the Senate. In addition to my endorsement, he's supported by Dr. James Dobson, Rep. Mo Brooks, Mike Huckabee, Mark Levin, Phil Robertson, Chuck Norris, and Sarah Palin.
With only a few days left before Tuesday's special election, it's time to spread the word about why Roy Moore deserves the nomination.
The special runoff election will be Tuesday, September 26. This is our chance to send a true friend of CAAP to Washington. (Of course, there's still the general election, but unless Judge Moore wins the primary runoff, it won't matter.)
Perhaps you've been disillusioned by other Christian politicians who have lots of promises, but don't stand by their beliefs. That isn't a concern with Judge Moore. He is, after all, the man who was willing to risk official censure in order to protect our religious freedom and uphold traditional marriage. Judge Moore is also proudly pro-life and an outspoken defender of family and religious liberty.
Help CAAP educate voters with a donation today!
Maybe you've never voted in a Republican primary before, but are wondering if it's time to make a change. If so, I assure you that this primary election is the time to show the world that there are millions of us ready to support our fundamental values.
Too often, we find ourselves voting for the "lesser of two evils." But in the Alabama primary runoff, we have the opportunity to support someone who truly reflects our values. Please, help us spread the word and urge any friends and family in Alabama to get to the polls on Tuesday.
In addition to spreading the word in your own network, you can also help CAAP's voter education efforts. By sending a donation, you can help us reach out to black pastors and leaders and educate them about what is at stake in this election.
It's a wonderful opportunity to make a positive choice for Christian rights, and for life, faith, and family. Let's send a friend of CAAP to the Senate.
By sending a donation today, you can help us reach black citizens. This includes pastors and leaders who usually vote Democrat. This is a rare opportunity for CAAP to educate black voters about the importance of voting for an outstanding candidate who holds our values and stands up to the establishment.
This is one of the most important challenges I am personally dealing with for this entire year. Please support me in this very important effort to elect a truly great American to the Senate.