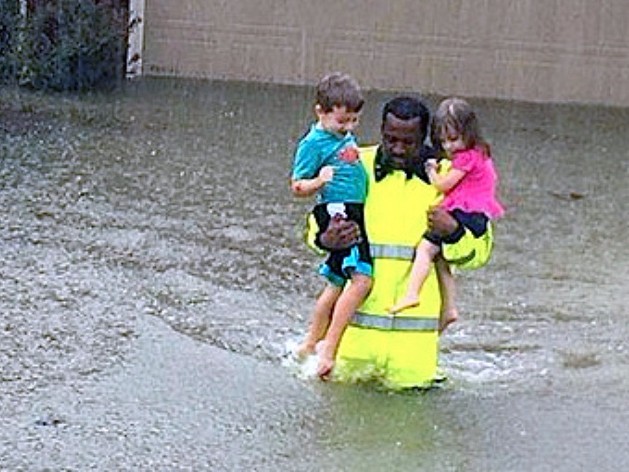 After spending nearly a week on an exciting and inspirational trip to Korea, we returned home to see that yet another state had been hit by a hurricane.
Hurricane Irma has destroyed homes and communities in Florida, leaving millions to clean up and rebuild. Many people have lost everything, and in some places, it will take a long time to recover – like in the Florida Keys, which depend heavily on tourism but must remain closed to tourists for a long time to come.
Having two such disasters in such a short space of time can feel like a test of our country's resources and charity. But it's a test that we will pass easily.
You have doubtless heard the advice to "look for the helpers" in times of emergency and crisis … because no matter how frightening or devastating things may be, you can always see men and women rushing to help their brothers and sisters. It's a great sign of hope and its proof that Americans will come together when it counts.
It's why CAAP began its own Hurricane Relief Effort, gathering funds to help the people in Texas who lost so much in Hurricane Harvey. Bypassing other relief agencies (and their administrative costs), we are using our many friends and partners in Texas to ensure that donations go directly to the people who need it. If you would like to donate, please click here to go to our secure donation page(we now take electronic checks). You can also send your check made out to the CAAP Hurricane Relief Effort to:
Coalition of African American Pastors
2654 W. Horizon Ridge Pkwy, Suite 139
Henderson, NV  89052
Already, we have been able to send the first round of donations to a local pastor in Houston. (Deborah and I also gave independently to a Houston ministry.) So, if you've contributed to the CAAP relief effort, your money is already helping people who were directly affected by the disaster.
But there's still a lot more we can do to help. Deborah has been especially passionate about helping families, especially the children who have lost everything in the storm.
If you can, I urge to you to make a donation to the CAAP Hurricane Relief Effort today. Every dollar sent for this effort will go directly to the people in Houston. The children of Texas need our help to rebuild their homes and their lives.
Please mail your check today or give online right away. No donation is too large or small and every gift is appreciated. Please let us hear from you today.
The CAAP Hurricane Relief Effort is our way of helping our brothers and sisters in Texas, who have proven again and again that they believe strongly in faith and family. To all of those who are beginning the long rebuilding process after the hurricanes, please know that you are in our prayers.