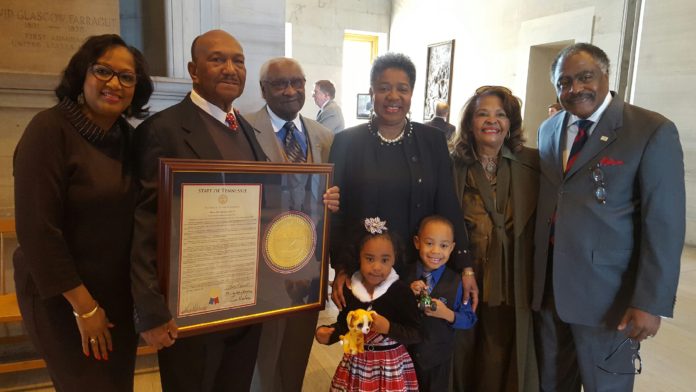 March 16 was a pretty exciting day for us at CAAP.
Because I was fortunate enough to be honored on the floor of the Tennessee State Legislature for the years that I've put in to defending faith, family, and justice. I even had the opportunity to meet with Gov. Haslam.
It was a humbling experience–all the more so because of the words of the resolution sponsored by Rep. John DeBerry. It starts with my work as an educator and businessman, continues through the creation of the Give Me a Chance ministry, and offer bright wishes for the future of CAAP.
Some highlights include:
"Under Reverend Owens's direction, CAAP became known for its fearless defense of family, marriage, and religious freedom."
"Throughout his estimable career as a religious leader and humble servant of God, Reverend Bill Owens has demonstrated his ability to lead and counsel others in the way of traditional Christian values."
And then it finishes with:
"BE IT RESOLVED BY THE HOUSE OF REPRESENTATIVES OF THE ONE HUNDRED TENTH GENERAL ASSEMBLY OF THE STATE OF TENNESSEE, THE SENATE CONCURRING, that we hereby commend and honor Reverend William "Bill" Owens for his work with the Coalition of African-American Pastors and extend to him our best wishes for his continued success and happiness."
But I want to emphasize that this isn't just an honor for me or for CAAP. Because when I'm out there speaking on behalf of our values, I'm doing it for all of us … the CAAP partners and members, fellow Christians, and everyone who is concerned about the direction of our country.
So while I happily accepted the commendation for my work, I was thinking about all of the people who have made it possible–especially you. Your support and prayers have brought me through difficult times. And you continue to inspire me.
Don't ever forget that we are a mighty force for God's Word and that we will never stop championing religious freedom, life, marriage, and the family. The honor I received makes it clear that there are many people counting on us to keep up that fight.