We've said for years that Democrats talk a lot about helping urban communities, but have only managed to make them poorer and more dangerous. We've also criticized Republicans for failing to engage with black voters.
I'm happy to say that things are changing … at least, when it comes to the current president.
This week, I was invited to the White House to attend a roundtable with President Trump and other faith and community leaders. It was sponsored by the White House Office of American Innovation, and the subject was urban communities.
I cannot tell you how exciting it was to see the energy and commitment to change in that room. We spoke about prison reform and the issues affecting African Americans in the inner city. There was talk about funding and initiatives that would help the black community.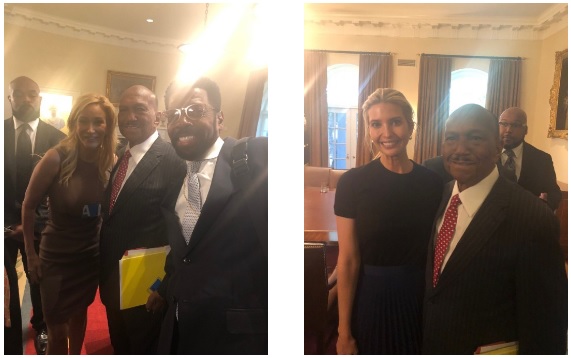 Coming from the president who has overseen the best African American employment rates on record, it was very promising. At the meeting, I even told President Trump that I am, "with him 100%." I support his efforts to address the challenges faced by the black community and his stand on religious freedom.
After the president's attention to inner city problems, his pro-life initiatives, and his record of appointing conservative judges, how could I say anything else?
"You always have a friend in the White House," the Pres told the pastors, many of whom invited him to attend services at their churches and spoke of their support for him: "We are with you 100%," said Willie G. Owens of the Coalition of African American Pastors. pic.twitter.com/RsNF0IZf4n

— Mark Knoller (@markknoller) August 1, 2018
My comment of support for the president has already gotten negative attention on social media … and I don't care one bit.
The Left wants to put black people on a political plantation. Anyone who dares to criticize their policies or leave the Democratic Party is belittled, mocked, and insulted.
But I care about principle, and President Trump has done more for our issues than President Obama ever did. Do I wish that wasn't true? Perhaps. But we cannot blind ourselves to uncomfortable truths. Saving faith and family is not an issue of color or race.
PASTOR'S PRAISE: At a meeting with inner city pastors, Darrell Scott of Ohio tells Trump he is "the most pro-black president" is recent history who "actually wants to prove something to our community." "The last president didn't feel like he had to," Scott told the President. pic.twitter.com/gyFJNN71Qg

— World News Tonight (@ABCWorldNews) August 1, 2018
That's why I need your help.
The Left is hoping to elect lots of extremist progressives this November to oppose the pro-life and pro-family measures that have been moving forward in DC. CAAP is working to educate voters before the election, but we need funds to create new chapters in key cities.
We must continue to educate African American voters about why it's time to leave the Democratic Party.
Can you make an emergency donation of $100 or more today? We have big goals, but this is the only way to ensure that the "blue wave" Leftists are working for doesn't drown our work for religious freedom.
To donate, just click here and you'll be connected to our secure payment portal.No gift is too small and every donation is deeply appreciated.
Going to Washington and meeting President Trump was proof that our issues are being heard at the highest level. We don't want to lose any of the victories we've had so far as we continue to work to put our nation on the right path.